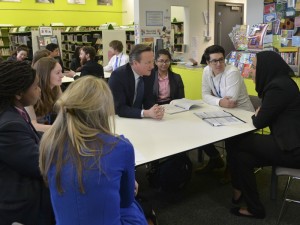 Bermondsey might not be normally be associated with its love of Tory politicians, but prime minister David Cameron certainly received a rapturous response from Harris Academy Bermondsey pupils when he dropped in on Monday morning.
If Justin Bieber had visited the Bermondsey girls' secondary school he would scarcely have caused more of a stir than the prime minister.
Pupils crowded round Mr Cameron during the mid-morning break and clamoured for autographs and selfies.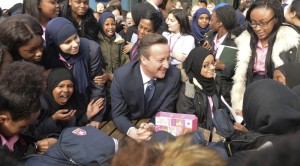 The PM's visit was to launch a £12 million Government initiative to promote mentoring schemes in secondary schools.
Once the scheme is up and running, Downing Street claims that 25,000 young people a year who are at risk of under achieving or dropping out from education will receive extra support from "high-flying professionals".
Harris Academy Bermondsey has run a mentoring scheme for its pupils for a decade. Employees from several Southwark-based firms – including News UK, PwC and the Financial Times – act as mentors to girls preparing for GCSE exams at the Southwark Park Road academy.
Harris Academy Bermondsey is part of the Harris Federation of schools founded by the Conservative peer Lord Harris of Peckham.