Moses Kanneh: 'Prodigy' Exhibition
Tuesday 7 May 2013

-

Friday 31 May 2013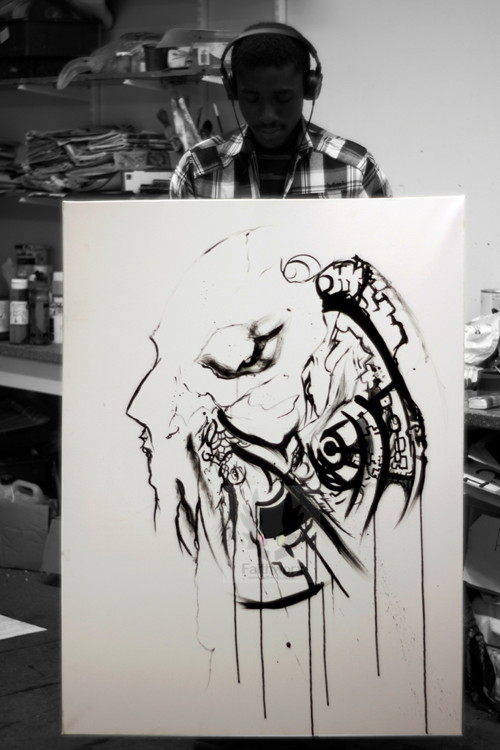 Salmon Youth Centre presents 'Prodigy' – the very first solo art exhibition by one of its young people.
Moses Kanneh, 23, an animation student and a Bermondsey resident, has been coming to Salmon Youth Centre for over three years and under the guidance of art tutor Eugene Ankomah has grown enormously in confidence and ability.
Prodigy is Moses' first ever solo show and Salmon's first art exhibition. It is the first of five series of works on canvas in which Moses explores his spiritual journey as an individual and an artist.
Speaking of the exhibition, Moses said: "The theme of my work is based on elements of faith, creativity and life, accompanied by my own personal journey as a Christian, an artist and an individual.
"The works produced on canvas have an abstract and experimental style, each piece expressing and communicating its own concept and meaning. Each canvas has its own independent story to tell, but yet share the same voice. In this first series, the works are focused and geared around the mind and its complexities, but also explores the mind as a place of battle."
Moses is grateful to Salmon and in particular, his "art mentor" Eugene, for the support in making his debut exhibition possible. He said:
"I never thought that I could do stuff like this before but from what Eugene has been teaching me, I have been able to grow in ways I could not have imagined – there is a more creative and expressive side of me now."
Speaking of Moses' progress as an artist, Eugene said: "I met Moses when he saw himself purely as a graphic designer and through many discussions, one-to-one sessions, practical sessions, and other staff encouragement, he has developed so much – both in the understanding of creativity and in his own abilities. His passion for art is inspiring other young people at Salmon."
All of Moses' artwork will be available for sale during the exhibition, with some of the proceeds donated to Salmon.