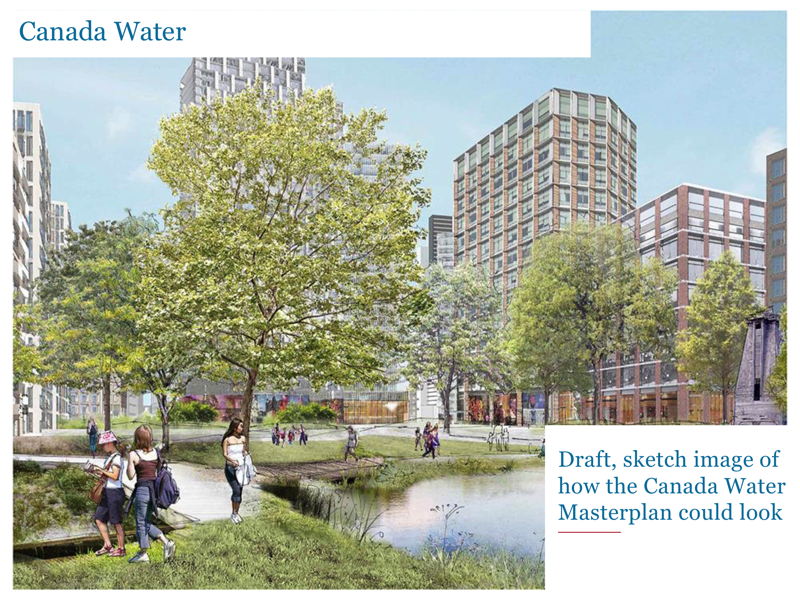 On Tuesday Southwark's cabinet agreed the basis of an agreement with British Land for the redevelopment of Surrey Quays Shopping Centre and Harmsworth Quays.
In his foreword to the cabinet report, Cllr Mark Williams, cabinet member for regeneration and new homes, wrote:  "Canada Water represents an enormous opportunity for the local community and Southwark as a whole. This report sets out the approach we will take to achieve the requirements we set out last year. These include a mechanism to achieve 35% affordable homes irrespective of viability under the statutory planning system. We will also secure a new leisure centre to replace the sub standard facility at Seven Islands.
"The council is also committed to retaining a long term interest in the town centre and the key to this will be retaining the freehold interest and maximising returns from the development for the benefit of Southwark's residents. It is important to recognise that this will be a truly mixed use scheme with significant jobs generated for local people not only during the construction phase but also in the long term. As part of the mix of uses we welcome the opportunity to bring a world class higher education offer and the opportunities this will bring in relation to business development, training and economic activity.
"The scheme provides an opportunity to be at the vanguard of our plans for sustainable transport including cycling and pedestrian links to the rest of Southwark and beyond and a reduction in a reliance on cars. The highest quality architecture, urban realm and energy efficiency will be at the heart of the scheme creating a world class town centre to meet the needs of our residents. We will also explore how to set up a London Living Wage Zone at Canada Water; where everyone working in the masterplan area is paid at least the LLW. Details for how this might be achieved will be included in the final agreement."
Emma Cariaga, British Land's project director for the Canada Water Masterplan, said: "We have an exceptional opportunity at Canada Water to create an exciting new town centre which will bring jobs to the area, alongside new homes, restaurants and accessible open space.
"We remain committed to working with both Southwark Council and the local community throughout the development of the masterplan, and beyond"
Listen to the full audio of the cabinet agenda item on Canada Water: