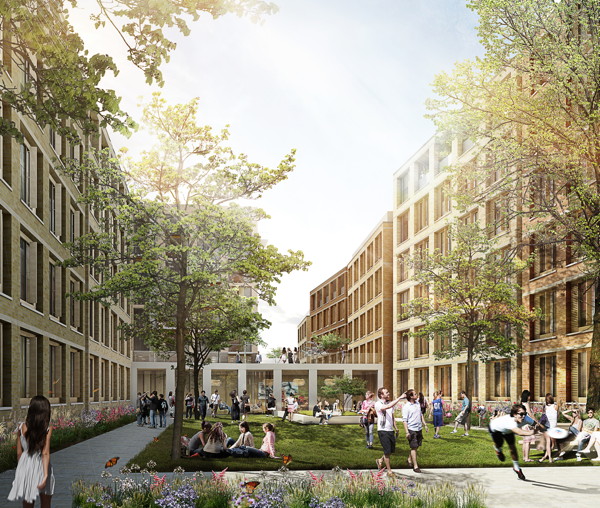 King's College London has submitted a planning application to Southwark Council to develop student accommodation, office space, affordable housing, retail units, a health care centre and public space on the former Mulberry Business Park site.
The college intends to increase student and academic staff numbers by 2,250 and 150 respectively by 2016.  It is also committed to providing more student residential accommodation to meet both current and future demand.
King's says that it plans to work with the council "to develop a town centre heart with a university environment" in the wider area, including the Harmsworth Quays site soon to be vacated by the Daily Mail.
This would include a mixed-use facility that will provide new teaching and learning facilities, student residential accommodation – of which a significant proportion would be for post-graduate student accommodation that may include a family provision – and indoor sports facilities.
The first step is to develop the former Mulberry Business Park. King's has a contract to purchase the site when planning permission is granted for the proposed development.
"I believe that Canada Water offers an unparalleled opportunity for the college and the London Borough of Southwark to create a vibrant, unique centre that will benefit our students and staff and make a positive economic, educational and cultural contribution to the local community," said Ralph Luck, real estate development director of King's College London.
"The Mulberry site development is the first stage in achieving this. We would aim to commence the Mulberry site works in 2014, and completing for the academic year 2016/17."