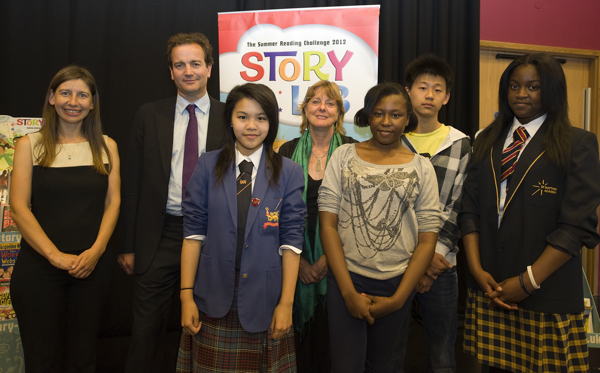 Civil society minister Nick Hurd MP this week  met young volunteers at Canada Water Library as Southwark Council announced plans to join a new nationwide library initiative, organised by the national charity The Reading Agency, to generate thousands of new volunteering opportunities for young people aged 11-25 years to give them new skills and experience.
The initiative is called the "Young Innovation Network" and builds on Southwark's existing youth volunteering schemes including the annual Summer Volunteers Programme. The volunteering opportunities help local young people to improve their chances of employability and enhance their personal development.
As part of its commitment to "Youth Innovation Network" Southwark libraries will create year round volunteering opportunities for young people and encourage them to have a say in the running of their local library. Opportunities are likely to include designing new library services, organising author events, reading with children, handing out books at events like World Book Night, and using library space and computers to tell stories about their community via social media.
"Through the Social Action Fund, we are supporting organisations that are creating new opportunities for people to get involved and help others," said Nick Hurd MP.
"I am particularly keen for more young people to get the opportunity to contribute to their community and develop their skills and confidence."
15-year-old Aishat Atinsola, who volunteers at Canada Water Library, said: "I enjoy being a young volunteer, I communicate with the public and children – its fun.  I am gaining communication skills and it boosts my confidence."
Cllr Veronica Ward, Southwark's cabinet member for culture, leisure, sport and the Olympics, said: "It is good to be able to showcase the good work we are doing with our library services.
"As a council we have invested heavily in our libraries across the borough and worked hard to ensure that they serve the needs of the local community.
"As a result, our Summer Volunteers Programme has worked really well this year with over 40 young people from across Southwark volunteering at libraries. We look forward to sharing and learning from our partners within the Network."
The initiative will be delivered in partnership with the Society of Chief Librarians (SCL) and the Association of Senior Children's and Education Librarians (ASCEL) and has been made possible following a £127,000 grant from the Cabinet Office's Social Action Fund.
The Reading Agency, which has many years experience of working with libraries to develop national volunteering programmes, will coordinate the Network and provide new training and resources for librarians on how to engage young volunteers and run successful volunteering programmes.