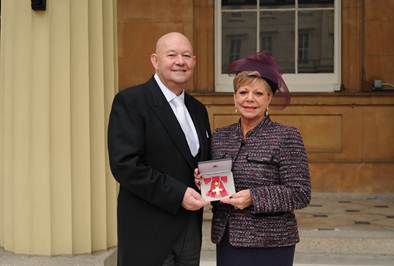 Rita Beckwith, co-owner and chief executive of Cherry Garden Pier-based City Cruises on Monday received her OBE for services to the leisure and tourism industry and regeneration of London's Docklands.
Rita founded City Cruises with her husband Gary in 1985, though the roots of their river business go back to 1976 when they bought a fuel barge which provided a filling station for many boat operators. In 1985 they acquired the company's first sightseeing vessel, The King, which operated a daily summer service between Central London and Hampton Court.
Today, City Cruises carries more than 3 million passengers a year on a wide range of sightseeing, entertainment and charter services.
"This is a great honour, particularly in the year that we have celebrated the Queen's Diamond Jubilee and the London 2012 Olympic Games, with the spotlight on London and a legacy of increased tourism for London and the whole of the UK," said Rita Beckwith.
"As a company, City Cruises continues to invest in the future of the business, our people and the River Thames, striving for innovation and high standards to provide the very best tourism experiences on our world famous river.
"In London we have better access to the river than any city in the world. The River Thames is the heart of London; it is enjoyed by Londoners, tourists, businesses and people of all ages. It offers people a moment of calm in a busy city and we at City Cruises are proud of our heritage for providing quality services for people to enjoy this city from its best angle."
Rita is also Chairman of UKinbound, representing the interests of members to help them manage successful, profitable businesses that contribute to a vibrant and sustainable inbound tourism industry.
City Cruises managing director  Kyle Haughton said: "Rita's ongoing commitment to developing London river tourism remains one of the key drivers behind City Cruises.
"We are proud of her achievements and delighted her hard work has been acknowledged with this truly special accolade."