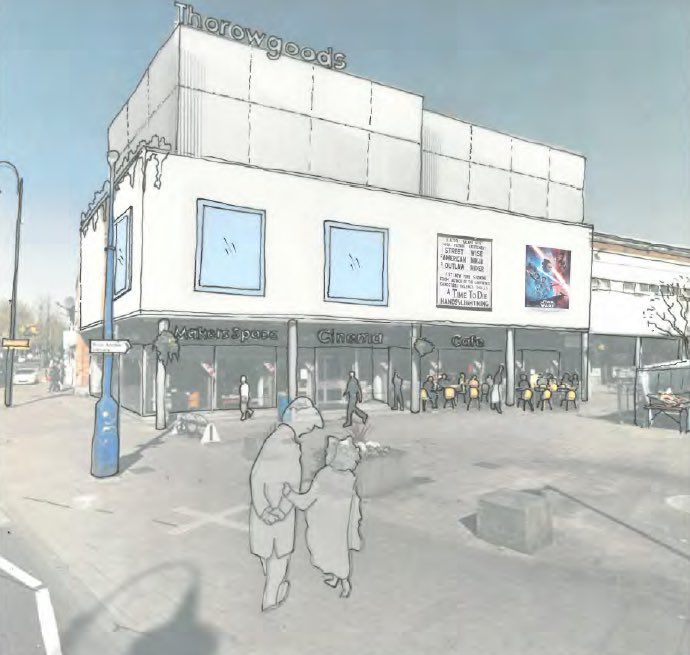 Plans for a new cultural venue at The Blue – including a three-screen cinema – have been announced by Southwark Council and Really Local Group.
Councillors went public on the plans at the South Bermondsey Ward Forum on Monday night.
The new venue in the former Thorowgoods store will be an all-day community space with a three-screen cinema, coffee shop, bar, informal co-working spaces and a food and craft hall.
Ticket prices are intended to be affordable: £6.50 to watch a film and £13 for live events.
Preston Benson, founder of Really Local Group, said: "We are very excited to enhance the cultural infrastructure offer in a borough with an established craft and music heritage.
"Working with Southwark Council, we hope to be able to curate a new 'cultural quarter' for the town and secure collaboration opportunities with local independent businesses, artisans and traders."
South Bermondsey councillor Leo Pollak, who is Southwark's cabinet member for new homes, great estates and social regeneration, said: "After years of working to improving the mix of shops and stalls at the Blue, and intervening on the sale of Thorowgoods, we are hugely proud to have secured a three screen cinema, community events and exhibition space and an affordable food market showing the best of local producers.
"We were greatly impressed by Really Local Group's approach, and I'm confident this will become a major new arts centre for the north of the borough, and a game-changer for the Blue.
"This not only underscores our commitment to healthy thriving high streets across the borough, but the importance of municipal interventions high streets that need a 'curatorial' steer while getting the tone balance and affordability right. Bring on the Summer of 2021!"
The Thorowgoods scheme is subject to approval by Southwark's cabinet and the grant of planning permission.
The new cultural hub will bring life to the marketplace which is being refurbished using funds from the Mayor of London's Good Growth Fund. Plans for the marketplace revamp will be on show on Saturday 7 March.