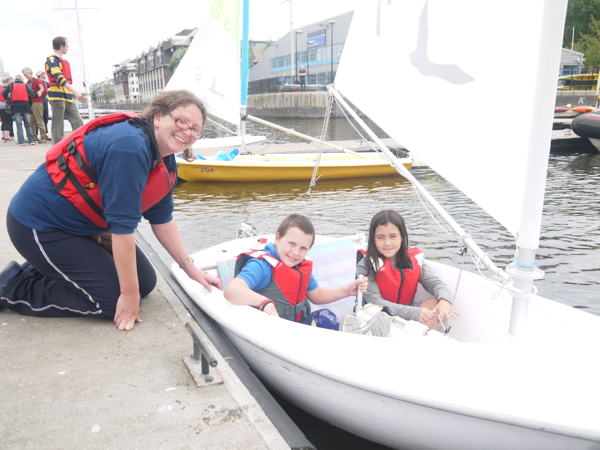 More than 100 visitors attended the inclusive sports day held at Surrey Docks Watersports Centre on 1 August to celebrate the Paralympic Games..The day was filled with fun activities including sailing, wheelchair basketball, adaptive cycling, Boccia, indoor rowing and boxing.
The council-run event was delivered in partnership with various sport groups including Tideway Sailability, Wheels for Wellbeing, London Youth Rowing, British Wheelchair Basketball and Fight for Change.
"It was very exciting to have had Boundless Sports in Southwark for the first time," said Cllr Veronica Ward, cabinet member for culture, leisure, sport and the Olympics.
"It was a great way to celebrate the Paralympic Games and our continued commitment to development sports opportunities for all.
"The event was a real success with families and community groups all showing their support for this fantastic event."
Andre Ferguson, director of Meakabears Deaf Support, who attended the event with his two daughters, said:  "I have attended such an event before and I must say it was simply amazing.
"I took part in all the events with my two girls and they loved it so much they didn't even want to leave! We had so much fun playing wheelchair basketball as a team and now the respect and admiration I have for people in wheelchairs have rocketed! They are true heroes. Thank you to the team at Southwark, we really appreciate you."
The event coincided with the announcement of the winners of the newly launched Southwark Sportability Grant set up to help support local clubs and organisations to better meet the needs of disabled audiences.
Successful applicants include Bredinghurst School, Contact a Family, Carl Campbell Dance Company, Meakabears, Tuke School, Sunshine House, Millwall Community Scheme, King's College and 2020 Archery.
Winners were selected by Southwark Council, a representative from Pro-Active Central London and Interactive. Each organisation will be awarded up to £2,000 to deliver inclusive activity within the borough.