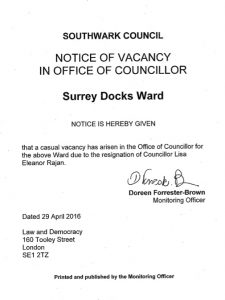 Residents in Surrey Docks Ward will be asked to elect a new councillor at a by-election on Thursday 9 June.
Lisa Rajan – a Lib Dem councillor since 2002 – has resigned her council seat because her husband now works in Manchester.
"It is with huge sadness that I am standing down as one of the Liberal Democrat councillors for Surrey Docks," said Lisa Rajan.
"For fourteen years I have had the greatest privilege of representing an incredible community and helping win the fights for the new Canada Water Library and the C10 bus route.
"Being a councillor needs serious commitment though and I'm very sorry that changes in my personal life mean that I can no longer serve residents the way Liberal Democrat councillors believe we should always do.
"Fourteen years after first being elected, there are still huge issues in Surrey Docks.  Most importantly, we need to make the council's regeneration process happen 'with' residents and not 'to' them.  We also need proper infrastructure in place – GPs, schools and transport – before further huge development takes place at Canada Water.
"I really want to thank residents for their support over the years and hope they will continue to back the Liberal Democrats as the best choice to fight residents' corner in Surrey Docks."
Lisa Rajan is the author of the 'Tara Binns' series of children's books.