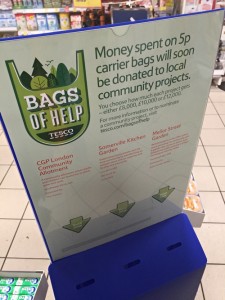 The CGP community allotment in Southwark Park is to receive a grant from the Tesco 'Bags of Help' scheme – but shoppers will determine how much cash the garden receives
Tesco has allocated £30,000 to community projects in and around Southwark in the second round of its Bags of Help scheme, funded by the proceeds of the mandatory 5p charge for plastic carrier bags introduced in England last autumn.
The amount each project receives will depend on where it is ranked in a public vote against two others: £12,000 will be granted for first place, £10,000 for second and £8,000 for third.
Customers in Southwark stores will receive a token at the checkout and be asked to place it in the box of the project they favour the most.
The three contenders are:
Melior Street Garden, SE1
CGP Community Allotment in Southwark Park, SE16
Somerville Kitchen Garden, Lee SE12
Voting continues until Sunday 6 March in the stores listed below.
Participating Tesco stores in Southwark
Tesco Extra – Surrey Quays
Tesco Superstore – Old Kent Road
Tesco Metro – Tooley Street
Tesco Metro – Elephant & Castle Shopping Centre
Tesco Metro – Jamaica Road
Tesco Express – Tower Bridge Road
Tesco Express – The Cut
Tesco Express – Borough Road
Tesco Express – Great Suffolk Street
Tesco Express – New Kent Road
Tesco Express – Long Lane
Tesco Express – Camberwell New Road
Tesco Express – Peckham
Tesco Express – East Dulwich
Tesco Express – Queen's Road Peckham
Tesco Express – Southwark Park Road
Tesco Express – Walworth Road
Tesco Express – Camberwell