Last week London's deputy mayor for  housing & land Richard Blakeway joined representatives of St James, Southwark Council and Peabody to formally open the doors to the new development of 182 shared ownership and social rented homes at Chambers Wharf.
The homes, to the south of Chambers Street, have been built in advance of the linked private homes between Chambers Street and the river.
The second phase of development will have to wait for the controversial Thames Water 'super sewer' to be completed.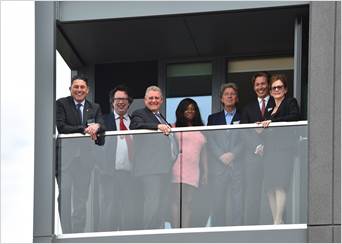 Spread across seven buildings, ranging from 10 to 14 storeys in height, a total of 587 homes will eventually be built at Chambers Wharf.
Sean Ellis, chairman of developer St James, said: "Chambers Wharf represents a pioneering approach to affordable housing provision in the capital. We wanted to raise the bar and showcase what can be achieved within a short timeframe. It's tenure blind in a prime location, creating 182 contemporary, affordable homes that residents can be proud of."
Cllr Mark Williams, Southwark's cabinet member for regeneration and new homes, said: "In Southwark we are tackling the housing crisis head on and are doing all we can to build the quality affordable homes our residents so desperately need. This development delivers affordable homes at social rent, while also helping local residents get onto the property ladder with shared ownership homes."
One of the first residents of Chambers Wharf is Ingrid Thomas. Previously living in a two bedroom apartment, she has moved into a four bedroom townhouse with her three boys and eight-month old daughter: "We now have the space and facilities to function as a proper family. I'm blown away by the high quality and design of the home. The outdoor space is also wonderful and it has already started bringing residents together. The children are also really excited about the play area which is currently being built!
"I couldn't be happier right now; it's the new start I'd been waiting for. The fact that my children love their new home makes me even more appreciative of living in this life changing new development."
Stephen Howlett, chief executive of the Peabody Group, added: "Peabody has been at the heart of Southwark for almost 150 years and we want to extend our mission to as many people as possible.
"Chambers Wharf is an example of how strong partnerships can help deliver high-quality affordable homes, jobs, community facilities and amenities both for the residents and the wider community."