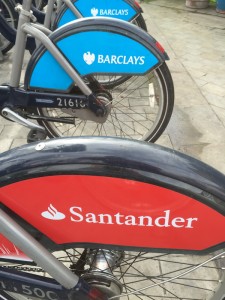 Boris Johnson says there are "no plans" to extend the cycle hire scheme – despite recent comments by his cycling commissioner who said he had been holding discussions with Southwark Council about bringing bike hire to more of the borough,
The Mayor's remarks – in a written answer to a question tabled by Labour's Val Shawcross AM – will come as a disappointment to those hoping to see red bikes on the Rotherhithe peninsula in the near future.
Cycle Hire in Rotherhithe
Question No: 2015/1057
Valerie Shawcross
I have been contacted by residents in Rotherhithe who are keen to see the cycle hire scheme expanded on Rotherhithe peninsula particularly near the riverfront as there currently are no cycle hire facilities in this vicinity. Please can this be considered?
Written response from the Mayor
As explained in MQ 2014 /3442, there are no plans to expand the scheme outside of the current footprint at this time.
The main focus for the Cycle Hire scheme, at present, is to identify locations for more 'intensification' sites with our borough partners within the existing footprint of the scheme. By increasing the density of docking points, particularly in Central London, users will have greater opportunity to hire and dock bikes and the redistribution operation will be more efficient.
This said, I view the scheme as an expanding programme and TfL is more than happy to look at suggested sites and areas, subject to a range of criteria that must be met for docking station installation. These include topography, operational considerations and future funding.
Both boroughs and private landowners who are interested in Santander Cycle docking stations are encouraged to contact TfL.  Duncan Robertson, Business Development Manager, is the first point of contact and can provide assistance on issues of funding, site locations, and other ways TfL can help.
TfL remains engaged with all London boroughs regarding intensification and any possible future expansion.