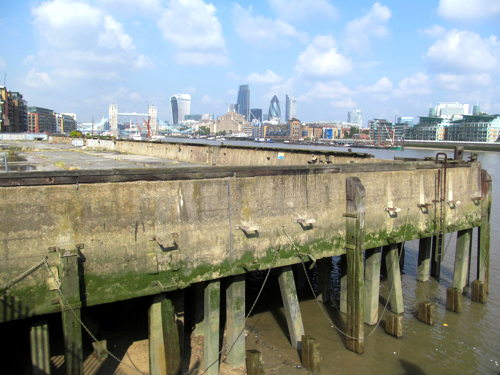 Thames Water has won planning consent for the proposed 15-mile 'super sewer' tunnel beneath London.
The announcement that Chambers Wharf will be a major site for work was made just hours before Parliament rose for a month's recess.
The go-ahead for major works is the result of a joint decision made by Communities Secretary Eric Pickles and Environment Secretary Liz Truss.
Southwark Council Leader Peter John immediately condemned the decision to use Chambers Wharf as a drive site when inspectors had deemed it to have "serious deficiencies".
"I challenge Eric Pickles & Liz Truss to come to Southwark to explain their decision to residents near Chambers Wharf," said Cllr John shortly after the decision was announced on Friday morning.
"Education and lives will be destroyed by government's terrible decision to build the 'super sewer' from Chambers Wharf," he said in reference to the nearby Riverside Primary School and housing.
Cllr John says that the decision will be challenged.
Save Your Riverside action group, set up when Thames Water purchased Chambers Wharf, has also condemned the decision.
"It does the credibility of the major infrastructure planning regime no good in the eyes of the public for proposals that were shown to be flawed in preparation, and then shown to be half-baked when tested at the Examination, to nonetheless be given consent by ministers with minimal regard for the impact on Londoners."
Liberal Democrat councillor for Riverside ward Hamish McCallum said: "As local Lib Dem councillors for the Chambers Wharf site, we are outraged by this decision. We are shocked that after Planning Inspectors had agreed with the Save Your Riverside Group, local councillors and the local MP that the tunnelling direction be reversed, two Conservative Ministers then ignored their recommendation and approved the original plans.
"To us, this makes a complete mockery of the planning process and appears to leave the justification for using Chamber Wharf as a drive site in question. We are exploring if any other options are available at this stage and are simply appalled."
Simon Hughes, MP for Bermondsey and Old Southwark, said: "I know that my constituents who live, work and go to school along the riverside in Bermondsey will be very disappointed by the details of the planning decision for the construction of Thames Tideway Tunnel. Despite positive changes which will benefit Chambers Wharf, the wider community will of course be frustrated that the plans for a drilling site in Bermondsey have not been reconsidered.
"I will of course continue to work with local residents, businesses and others in the community to win maximum environmental protection and minimum disturbance in Bermondsey and the rest of our borough."