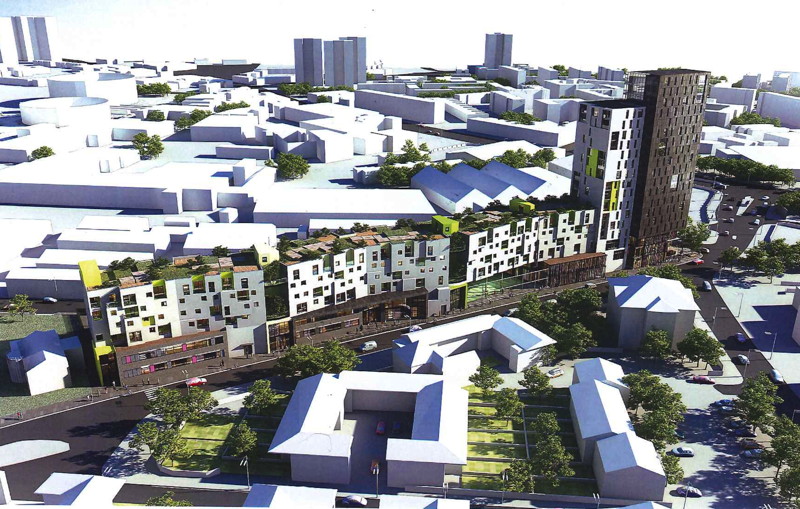 Mayor of London Boris Johnson has approved a planning application for a 19-storey tower in Rotherhithe New Road despite his "concerns" about the scheme's design.
The development – designed by HLM Architects – includes 158 homes, space for the Southwark Free School (a 450-place primary school), a new sixth-form centre for the City of London Academy as well as facilities for the Bede House charity.
The applicant is SCCD Developments which describes itself a family-run local business owned by Tom and Donna Pratt, proprietors of Southwark Metals.
The site is at the southern end of Rotherhithe New Road, close to Old Kent Road and St James's Road.
Southwark Council's planning committee turned down the application in June for a range of reasons including overdevelopment, inadequate affordable housing and poor architecture.
 In July Mayor of London Boris Johnson announced he was to to 'take over' the application. On Thursday this week he held a hearing to receive representations for and against the proposal.
Introducing the scheme, Greater London Authority planner Lucy Bird said that the tower would provide a 'distinctive landmark' for the area.
However, Southwark Council planning officer Bridin O'Connor told the Mayor that "this is the wrong development in the wrong place", highlighting concerns about loss of industrial space,  the "wholly incongruous" tall building, the very high density of the proposals, road safety and other transport impacts.
Catherine Stevens, governor of Southwark Free School, explained that the school currently operates from the Ledbury Estate tenants' and residents' hall and currently only has eight pupils in its reception class due to lack of space.
The hearing was also addressed by Richard Bannister, principal of the City of London Academy, who said that by moving his sixth form centre to Rotherhithe New Road he would be able to expand capacity in years 7 to 11 at the school's existing Lynton Road campus.
Sean Tickle, the developer's agent, claimed that the scheme represents an "innovative approach to mixed-use development" and noted that this had been recognised with a commendation in this year's New London Awards.
Announcing that he was minded to approve the scheme, the Mayor noted that this was a "very difficult case" but "on balance" he would accept his officers' recommendation to back the development.